Write that Essay! Book Series
Write that Essay! High School Edition
This book is a fun, clear and engaging guide to writing better essays and achieving higher grades.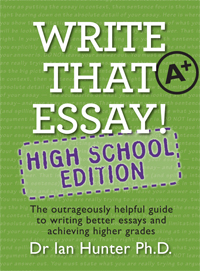 Written to address common difficulties raise by students in high school education, Write That Essay! High School Edition is the essential guide for improving writing skills and achieving better grades. Written by a former university professor, the book gives an inside look at what those who grade the exams are looking for in an essay.
Topics covered include:
How to interpret an essay question
Planning your essay
How to write an introduction quickly
Master different sentence styles
Use evidence convincingly
Learn how to create drafts and then polish your essay
Produce top class examination essays
Write that Essay! Tertiary Edition 
The essential guide for students undertaking tertiary studies at all levels. Write That Essay! Tertiary Edition takes the difficulty out of essays and assignments with clear, informed advice supported by helpful examples and pointers. Dr Ian Hunter has produced a book that will give you a quick break-through in essay writing: you will produce faster, more confident essays, and your grades will improve.  Suited to students of all levels in tertiary education: from first-year students right through to adults returning to study from the workplace. 
This book includes:
How to write quick and clear introductions

Learn how to write convincing arguments

Straightforward ways to gain extra marks

Easy ways to get referencing right

How to make your writing more interesting

And MUCH more 
What students are saying:
'After applying your essay-writing techniques, my essay marks have dramatically improved from a B- to an A! Thanks for sharing your wisdom.'
Law Student

'I used the plan template it provides and the suggestions for structuring an introduction and conclusion with great success. Now my marks have not only improved but also I'm finishing full drafts in just a few hours…'
MBA student


Write that Essay! Student Workbook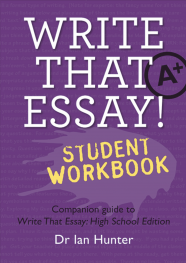 Writing well takes practice; it can also be fun and interesting. This student workbook does just that. It is packed with charts, examples, worksheets, exercises, and sample essays-everything you need to improve your high-school essay writing. No more sitting round looking at the ceiling wondering what to write-this workbook will get you writing well TODAY! Relevant across all subject areas. Suitable for Year 9 to Year 12 students. Designed to get you writing quickly and easily.
This workbook includes:
Easy-to-follow diagrams and charts

Actual examples from student work

Hands-on activities to build confidence

Learn ways to write more interesting sentences

Handy tips to write speedy introductions

Planning techniques that produce superior essays
This book can be used in unison with Write that Essay! High School Edition. Keyed pages link to specific sections in the High School Edition for further reading and reference. Photocopying allowed for personal classroom use only.
About the Author
Dr Ian Hunter was an academic for over 20 years. Concerned with the growing writing problem among students, in 2011 Ian left academic life to work with educators and schools to improve literacy and writing outcomes. His company, Writer's Toolbox—an award-wining online writing platform—is used by over 170 schools across Australasia.
He has over 100 publications including 20 books, such as: Write that Essay, Imagine: Innovation, When People Matter Most, Tatua: 100 Years, The Young New Zealander's Guide to Entrepreneurship, Briscoes: 150 Years in New Zealand, Jason: 50 Years of Leading by Design, Farmers: Your Store for 100 Years, and Robert Laidlaw: Man for Our Time.  The book of Ian's PhD research—Age of Enterprise—was a finalist in New Zealand's Montana book awards.